One Kind Favor
Publication date: May 18, 2021
WTAW Press Preorder Sales Information
Books will ship upon publication.
Based loosely on a tragic real-life incident in 2014, One Kind Favor explores the consequences of the lynching of a young black man in rural North Carolina. After the lynching of Lincoln Lennox is discovered and subsequently covered up in the small fictional community of Cord, North Carolina, the ghosts who frequent the all-in-one bar and consignment shop take on the responsibility of unearthing the truth and acting as the memory for the town that longs to forget and continues to hate. A reimagined Kathy Acker, the groundbreaking literary icon, engages Lincoln in a love triangle and brings a transgressive post-punk esthetic to the mission. The down-the-rabbit-hole satirical storytelling of One Kind Favor, Kevin McIlvoy's sixth novel, echoes Appalachian ghost stories in which haunting presences will, at last, have their way.
---
At The Gate of All Wonder
"WHAT A STRANGE AND MIRACULOUS BOOK. The soundscape of deep woods, children in training to hear beyond the hearable, their cosmically cranky instructor, petty and lethal revenge on all sides. … Don't expect to emerge unchanged." – Joan Silber
"DEEPLY ODD, WONDERFULLY ORIGINAL, At the Gate of All Wonder has the power of fresh myth. From these enchanted woods we emerge… terrified, illuminated, struck all over again by the wonders of the natural world and the passionate strangeness of familial love." – Andrea Barrett
"I'LL GO OUT ON A LIMB and say that At the Gate of All Wonder is revolutionary. For it teaches the reader how to listen in a whole new way, and how to be fully present to our natural surroundings. It is also a fantastic novel, funny and wise and vividly rendered, with a most distinctive protagonist. I recommend this wild journey!" – Sebastian Matthews
The Colorado Review offers Elizabeth Boyle's review here In it, she writes, "AT THE GATE OF ALL WONDER IS ALSO A NOVEL THAT QUESTIONS WHERE THE LIMITS OF LITERATURE LIE. What, truly, do we hear when we read about crown-limbs clattering and bits of bluff stone grumbling and crunching? Do we hear? Or do we simply remember what we have once heard. "Sound, a natural syntax," Sam writes, "asks to be reheard whenever it is 'read.'" How different, though, is hearing from rehearing? To what extent, in other words, can literature hold within it sensation? Samantha Peabody's dark memory album might not answer these questions, but it certainly invites us to wonder what is possible."
---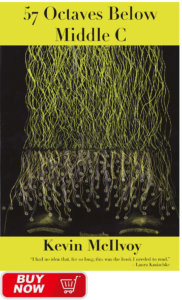 57 Octaves Below Middle C
"AS IF BLIND WILLIE JOHNSON HAD STUMBLED THROUGH ALICE'S LOOKING GLASS. 57 Octaves Below Middle C offers a thrilling mash-up of the soulfully executed blues riff and the wondrously weird. In McIlvoy's latest, beneath the artistry and the melody, the hilarity, the poetry, beneath every note (and all the octaves) in this extended ballad of pre cisely inflected narratives, is a cri de coeur. A tour de force!" – Karen Brennan
"MCILVOY'S LATEST BOOK SINGS STRANGE SONGS OF BELONGING–a man who collects lawnmowers ('I need to mow. I needed the right mower. Many of us do') encounters a lawnmower cult whose leader speaks entirely in haiku; another who turns doglike when suffering from migraines (the headaches are named 'Miss Luck' but also 'Death's substitute teacher with no syllabus') meets a pack of men who endure the same transformation; a brother and sister bond over their shared love of duct tape. Hovering between prose and poetry, the linked pieces in 57 Octaves Below Middle C are marvelously peopled with characters you've never seen before and full of tragicomic insight ("I was an extraneous adverb when my father, the verb of the family, died")." – Matthea Harvey
"57 OCTAVES BELOW MIDDLE C GIVES THE READER, IN A SERIES OF MEDITATIVE, DREAMY, SUSPENSEFUL, MIND-BENDING, AND SOMETIMES HILARIOUS STORIES, a vision we had no idea we'd been waiting all our lives to see, and to have brought to us so clearly, with such strangeness and such clar ity. This is a whole new landscape-both inner and outer-and only a writer as attentive to language as McIlvoy could bring such a book into the world. He ignores none of the necessities of a great story in any of these, no matter how inventive he's being, because this isn't experimentation. This is work fully informed and appreciative of the conventions of storytelling, while playing round with them, wildly, and with total success. Because Mcllvoy's completely original forms fulfill all of our traditional longings – to be scared, to be moved to believe, to be changed, to laugh-this is a miraculous collection. It opens up possibility unto new possibility with every page. I had no idea that, for so long, this was the book I needed to read." – Laura Kasischke
The Colorado Review offers Kelly Cherry's review here.  In the opening paragraph of that review, she writes, "KEVIN MCILVOY, THE AUTHOR OF THE STORY COLLECTION 57 OCTAVES BELOW MIDDLE C, IS LIKEWISE, UNIQUE: I know of no one else who can sing his stories. They are always unexpected. It's true that in recent years various authors have tried to find ways to write outside the box, but many fail in this endeavor. The human mind still longs to be logical and hopes for a reasonable, preferably favorable, reading. McIlvoy is the exception, his stories even stranger than those of Ben Marcus or Lydia Davis. So strange, sometimes, that it is difficult to put the story down. You may find yourself reading it over and over in search of meaning."
Kirkus Review writes: "AN OFFBEAT BATCH OF SHORT AND FLASH FICTION, generally concerned with domesticity but more notably obsessed with the sound and feel of language. These experimental stories from McIlvoy (The Complete History of New Mexico, 2005, etc.) revel in their peculiar setups. A man buys a lawnmower from the poet Basho; a group of suburban men run through their neighborhood like werewolves, "a pack of men pulling a sleigh full of prostration"; vets go golfing in the snow; a narrator contemplates a person dressed as a Sprite can. Straightforward plots never follow from these premises, but McIlvoy is more interested in wordplay and observation than narrative. That can have some pleasurably jarring effects: one cycle of stories concerns a skateboarding-obsessed man named Teacher Reptile who writes epic fantasy novels and speaks in a patter that's half King James Bible, half Thrasher magazine. ("Give unto me the great chain, that I may rule the pit without bottom, the session that hath not end of grind.") McIlvoy can play up the humor and absurdity of language, as when he connects possessives like boxcars ("Inside their home's heart's sounds: the tub's faucet's dripping's splashings…") or upends the conventional aggression of the bank-robbery note. Even so, the overall mood is somber and contemplative, filled as the stories are with the likes of drowned people returning home, lonesome ghosts playing music in a bar bathroom, and hard-luck types aimlessly riding a bus in New Mexico. Most somber (and revealing) of all the stories is one teacher's recollection of a student producing a grammatically clumsy but charming sentence. "I have needed, wanted your flooding truth to kill what I have been," the narrator writes, echoing McIlvoy's consistent urge to distrust telling the story straight and to let the provocative premise and odd delivery carry the day. A challenging but fresh and inventive set of prose poems."
---
Where to Purchase Books:
---